I'll get back to our actual travels in my next post, but I wanted to share some details about our stuff. In addition to the questions about leaving home that I addressed in this note, I've had a lot of people ask what one packs for a one-year trip.
Clothes and luggage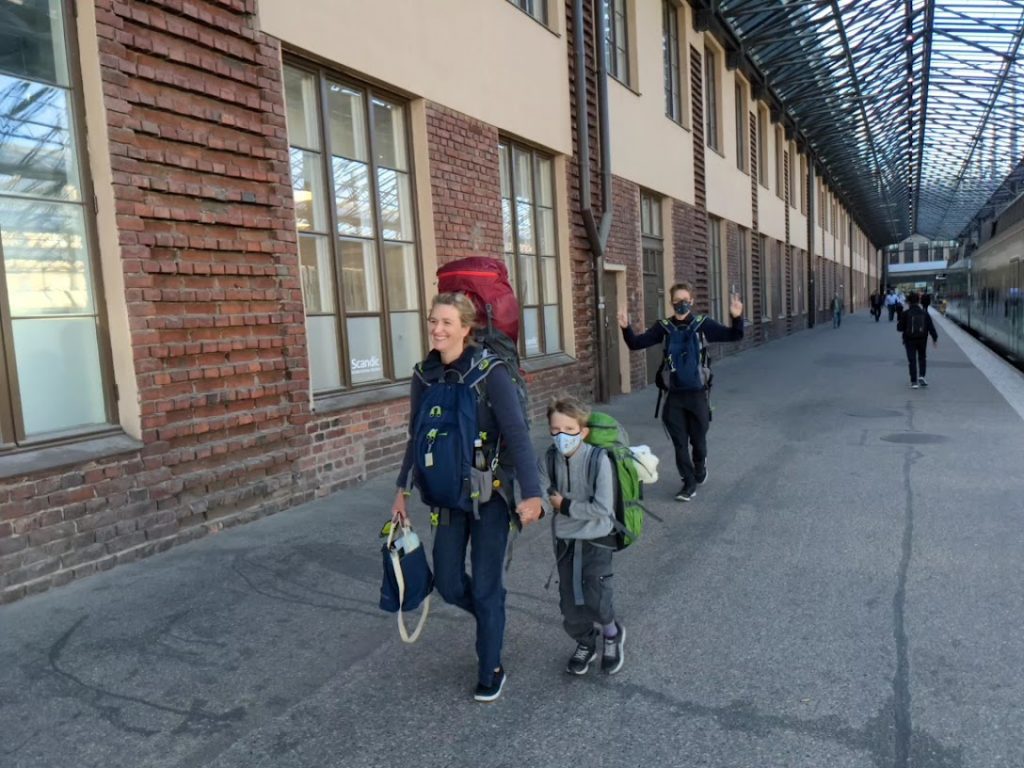 As you can see in this picture, the basic idea is everyone gets a backpack that has all of the clothes and everything else you need to bring for an entire year. Henry, Karen, and I also have smaller backpacks that work as daypacks when we're not traveling and otherwise act as places to store expensive, fragile, or important stuff. (I've got 9 passports in mine because everyone else is a dual US/German citizen. I did, however, get to go with them in the "EU Citizens" line when we landed in Frankfurt and it was super nice.)
The backpacks are pretty big, but small enough for airplanes. Mine weighs 44 pounds, Karen's 37 lbs, Henry's 26 lbs, Charlie's 22 lbs, and James's 15 lbs. (James says it feels like a heavy-ish school backpack.) The waist strap loads most of the weight on the hips, so it's not awful to walk 20 minutes in these, but more than a mile or so and the boys get annoyed with us.
In terms of what goes inside, you basically pack the same thing for a one-year trip as you do a one-week one. I've got 7 t-shirts, 7 pairs of socks & underwear, 3 pairs of pants, 3 pairs of shorts, 2 hoodies, running clothes, a pair of sandals, and swim trunks. I also have a backup pair of shoes because Karen and I learned in a prior trip to Asia that it's really hard to find size 13 shoes in most parts of the world. (We'd have to pack more clothes if we were going to colder places, but are planning our destinations to avoid that!) Every few days, our Airbnb then looks like this: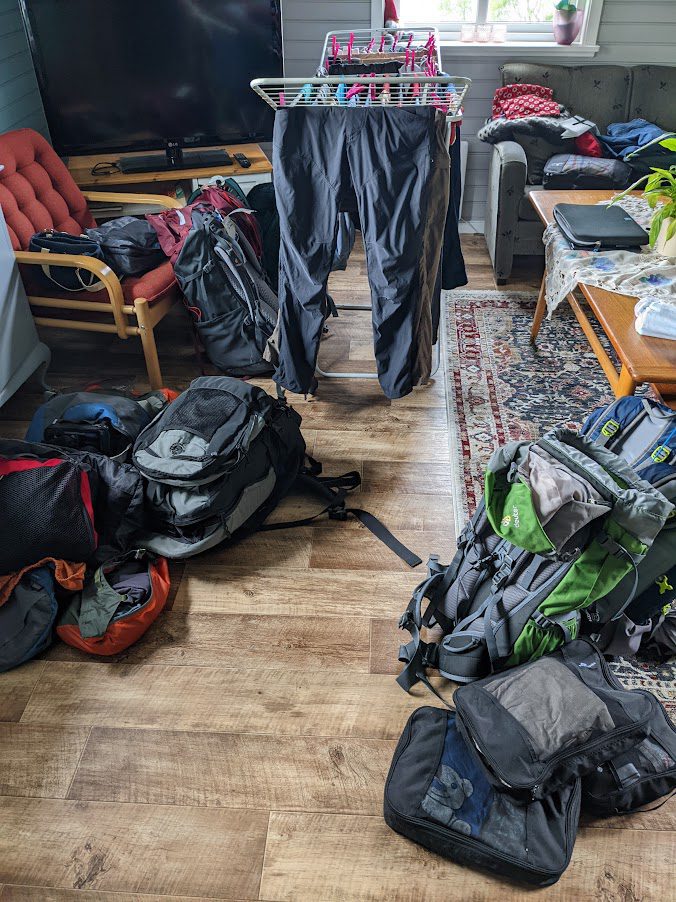 Speaking of the old backpacking trips Karen and I used to do, we love to read and would often start a trip with maybe 10 books each weighing down our packs. As we traveled, we'd exchange, donate, or leave behind the ones we'd already read, making space for souvenirs or anything else we wanted to buy.
Our kids read even more than we do, but luckily we don't need to worry about books adding to that weight total above: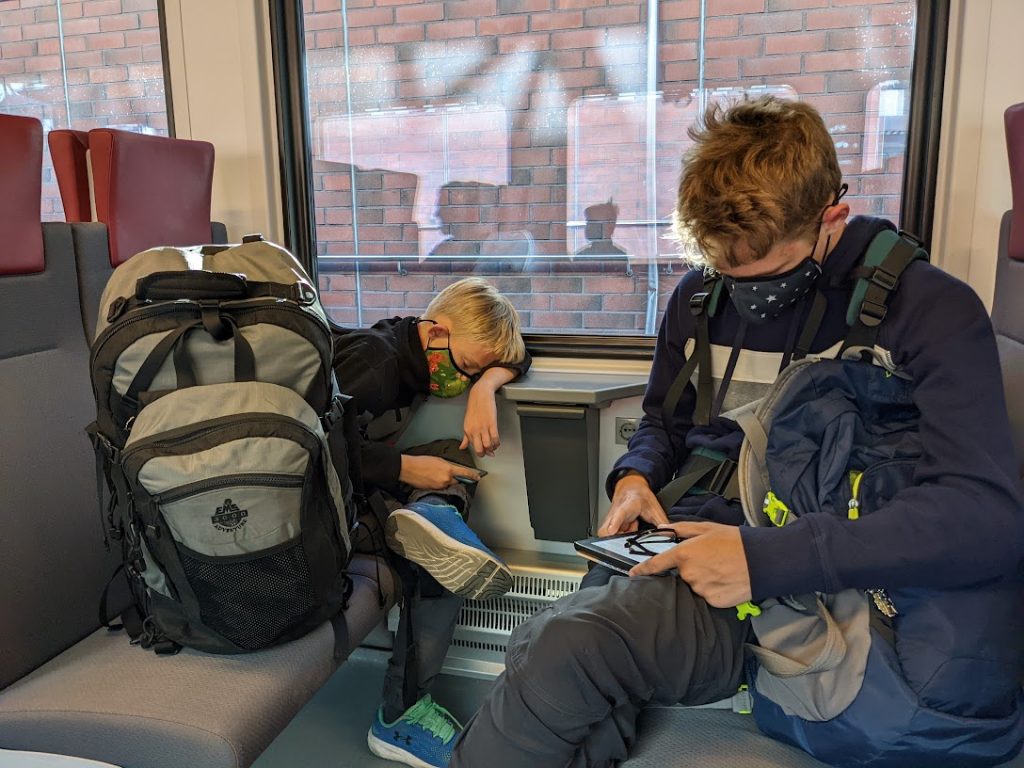 Because they read so much, we also subscribe to Kindle Unlimited, which lets us check out 10 books at a time for $9.99/month. I mostly don't like the books that are available with this plan (except for this one!), but Henry and Charlie find plenty and frequently go through several books a day.
I say mostly above, because there's a huge and awesome exception. When we travel, we prefer to use Lonely Planet guidebooks to plan our trips and every single book in their catalogue is part of it. Right before we flew from Finland to Norway, I just returned the Finland guide and downloaded the Norway one.
Speaking of technology, that's most of what goes into the smaller backpacks. Our family travels with 5 laptops, 5 phones, 5 Kindles, 3 Nintendo Switches, and 2 tablets. With all of that technology, this is what it looks like when we have to charge everything. These little things, from Epicka and Zendure, are awesome because the have travel plug converters built in and can charge 6 thing each at a time.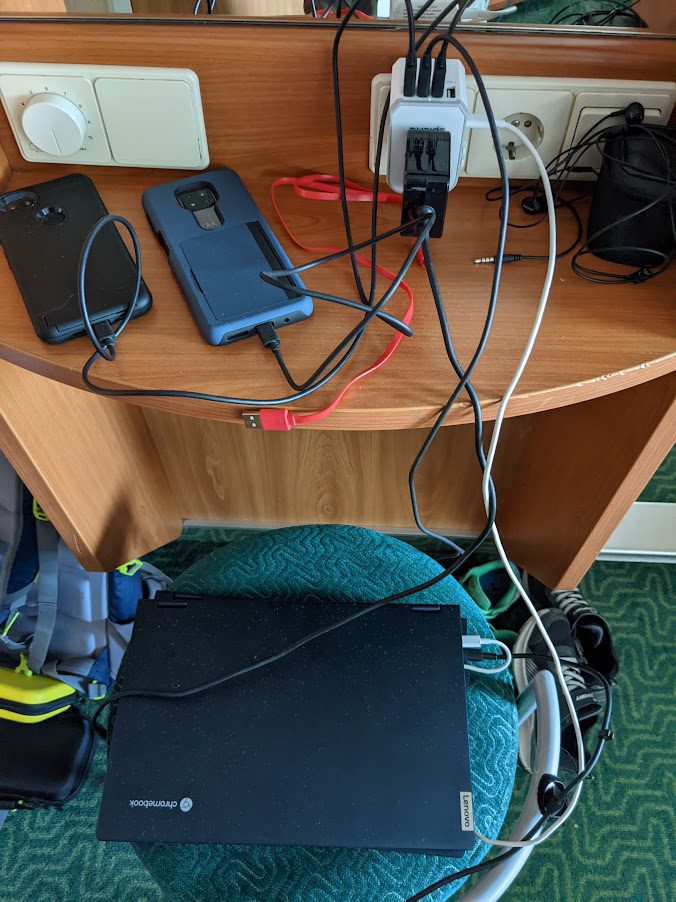 Finally, on phones, we've been really happy so far with how Google Fi has worked for us. It's unlimited data and texting in most countries in the world for $45/phone. We have that for me, Karen, and Henry, and it also lets us turn our phones into hotspots so we can get internet on all of the other devices. (Calls are $0.20/minute, which is reasonable, but why we prefer calling people on WhatsApp, which is free.) For Charlie and James, they use old phones that Karen and I used to use, without cell service, but they work on wifi and they have phone numbers that I got from Google Voice that they can still use for texting friends. (In James's case, his friend's parent.)
Anyway, that's my quick-ish rundown. If you have any other questions, please drop it in the comments!