10/5-10/13
Planning the African leg of our trip
We started this trip with a rough plan of spending about 3 months total in Africa and the Middle East after about 3 months in Europe. As I shared before, we ended up with closer to 4 months in Europe, but were still interested in spending more time in Africa if we could figure it out.
Surprisingly to a lot of people, Africa is the most expensive part of the world we're visiting. It's counterintuitive because of the concentration of poverty in Africa compared to the rest of the world: almost 2/3 of all of the people in the world living in extreme poverty (less than $1.90/day) live in Sub-Saharan Africa. That's 39% of the population compared to less than 9% within the world as a whole. Here's a graph from the World Bank showing how this has changed over the last 30 years: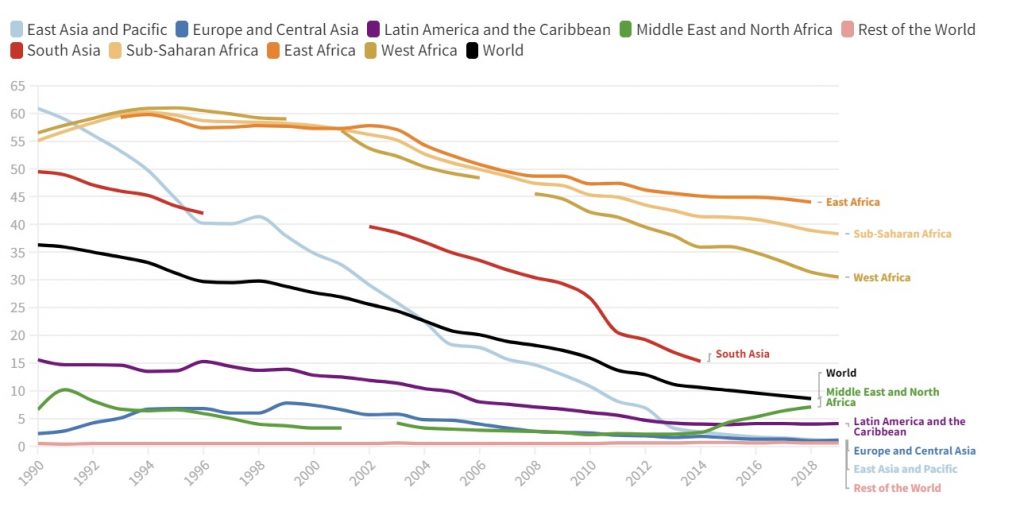 What that means for travelers is it's harder for us to find food and services up to our standard of expectations, and we have to pay more to do so. If Karen and I were by ourselves, we'd be willing to take a few more risks, but we tend to play it a little safer since we're thinking about our kids as well. (We want them to like traveling internationally.)
In other words, it's cheaper to go to France than Kenya, where there aren't anywhere near as many international tourists and budget hotels and tours catering to them. Instead, the market is more heavily focused on wealthier people looking to do "once in a lifetime" safari trips, who are willing to pay several hundred dollars a night (or more!) for the opportunity.
Pre-kids, Karen and I spent about half a year living in South Africa and were happy to rent a car and drive around there and in neighboring countries, but Kenya and the rest of East Africa seemed more challenging from the bit we'd started to read from guidebooks. We have a budget we're trying to follow, though, so I started piecing together an itinerary one location at a time, starting with a budget lodge near Maasai Mara, the most famous reserve in Kenya, and hoping we could figure out the logistics and next steps as we went.
Luckily, the lodge I picked (because it was only $100/night for a family room!) was tied to a great tour operator as well. When I emailed to ask only about game drives locally, the helpful woman on the other side of the "info" email address offered up a couple of tour packages for touring Kenya that were only about 50% higher than our normal daily budget. We were lucky to have found Kairi Tours & Safaris in this way, because we had a great time! (I should also point out that Elizabeth, the woman answering that email, was incredibly helpful and patient–our Gmail thread for planning the trip eventually hit 48 total messages!)
Recovering in Nairobi
So, a couple of months after planning this trip, we finally came to Kenya. After a long couple of days of travel (an overnight ferry from Crete to Athens and a stopover in Istanbul), culminating in a 3:30am arrival in Nairobi, we planned a couple of rest days before starting our real trip. We were lucky to find this Airbnb farmhouse cabin in a fancy suburb of Nairobi: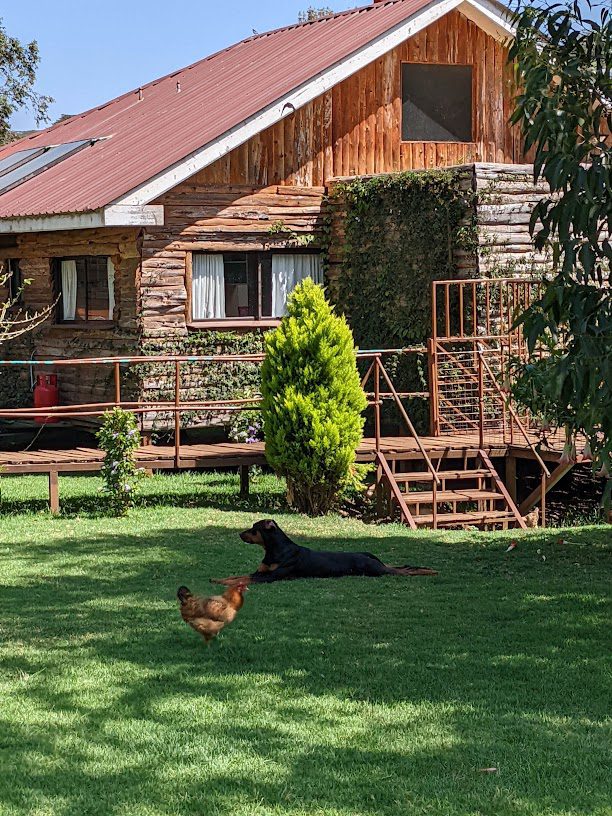 Our second day also included a visit to the awesome Giraffe Centre, which was small, but provided this up close and personal experience of giraffe tongues, which are pretty dry: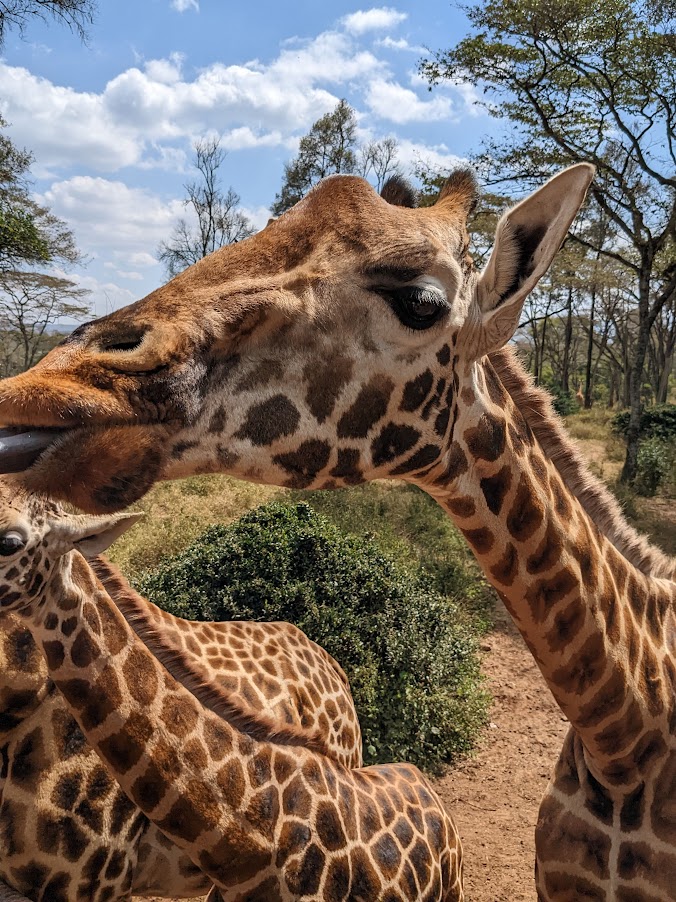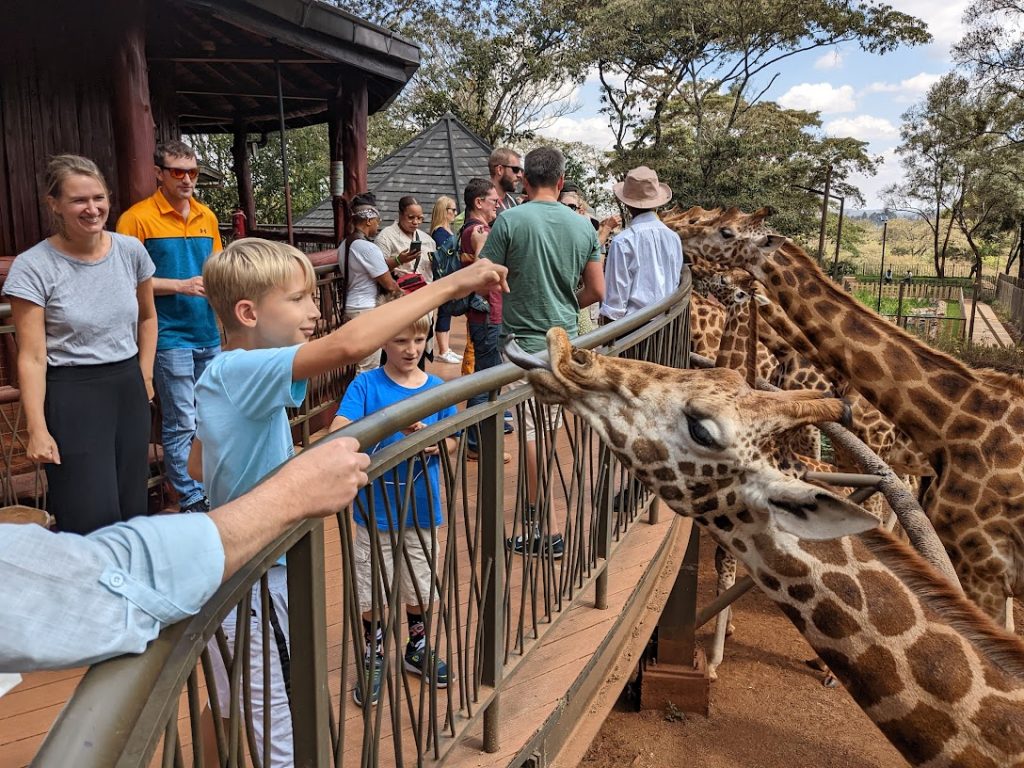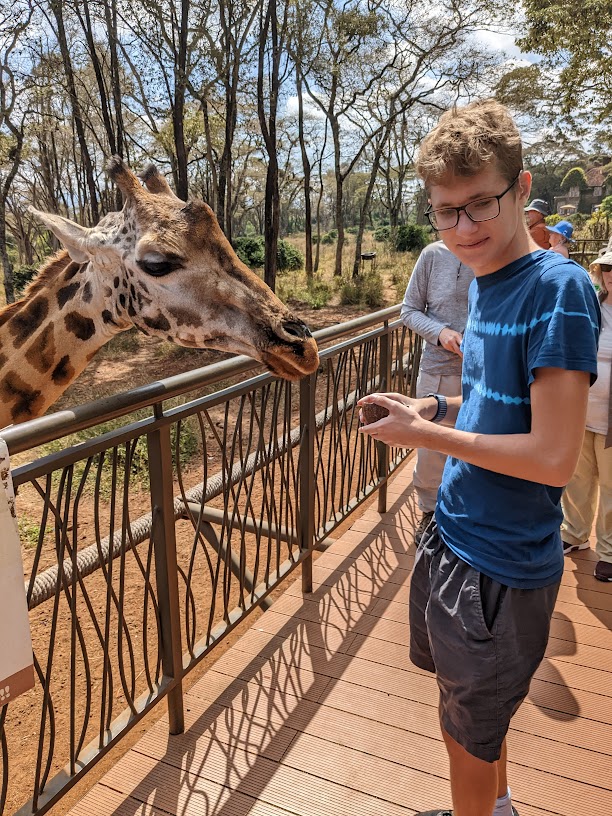 Travel to Maasai Mara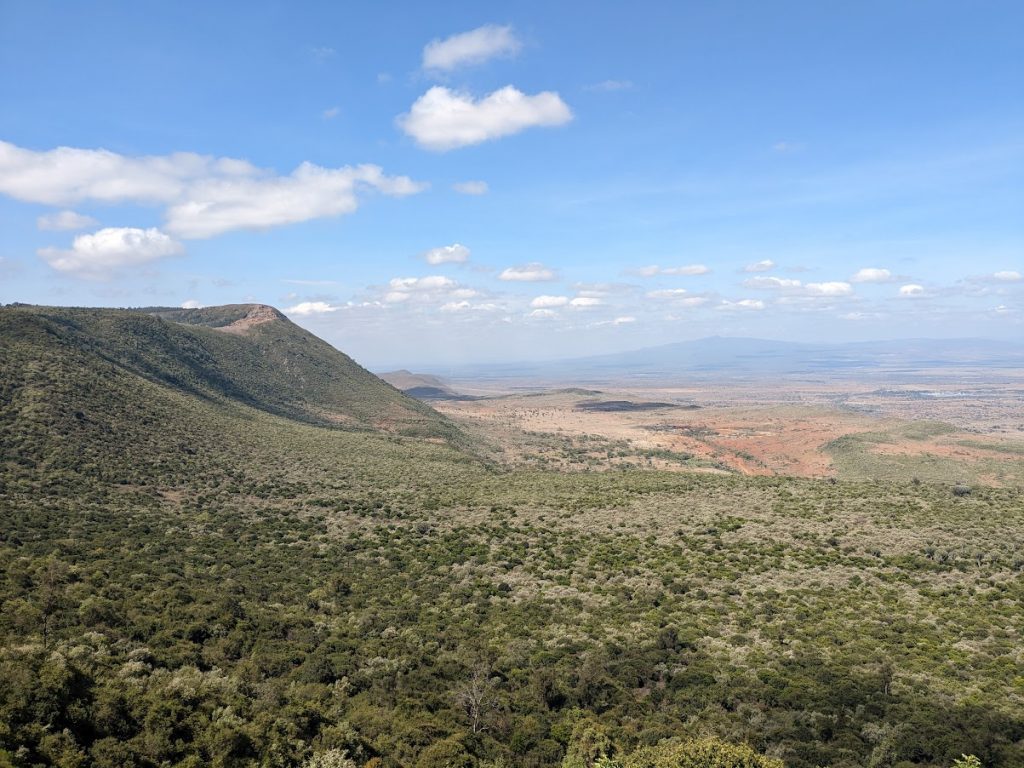 After our time in Nairobi, we met our driver/guide, James (pictured at the top of the post with our James), who picked us up in the morning and expertly navigated us through traffic and then some very bumpy roads to our lodge on the outskirts of the reserve. We then went for a short sunset drive of the camp, where we took in the great views, spotted impala, buffalo, gazelle, and guinea fowl for the first time, and got excited for our full-day drive the next day. (We also spotted a python, but my family hates snakes and tries not to talk about that!)
Here's my Instagram post about everything we saw that next day. James did a great job talking to other drivers and peering through binoculars to find as many great animal sightings as possible. It was excellent!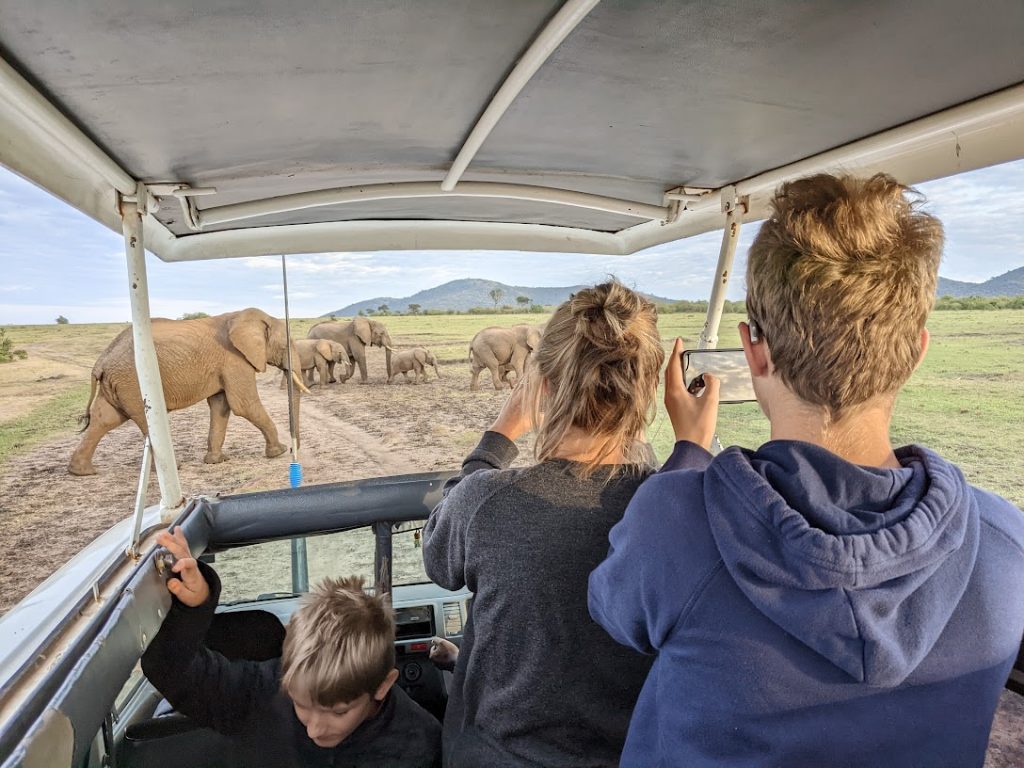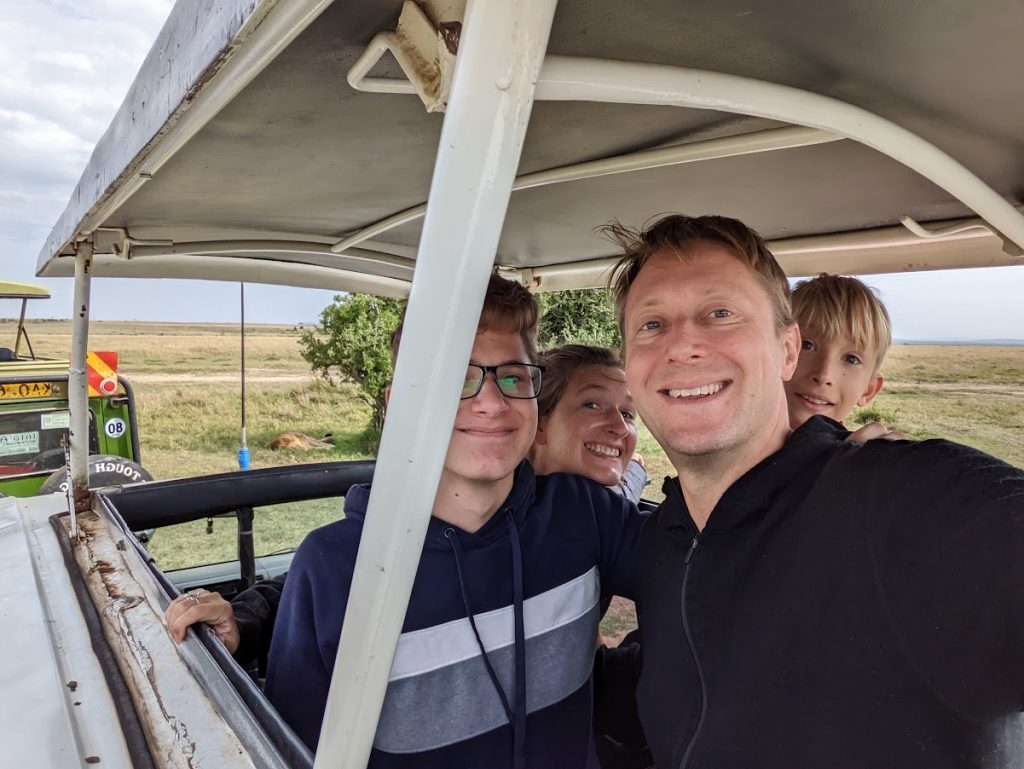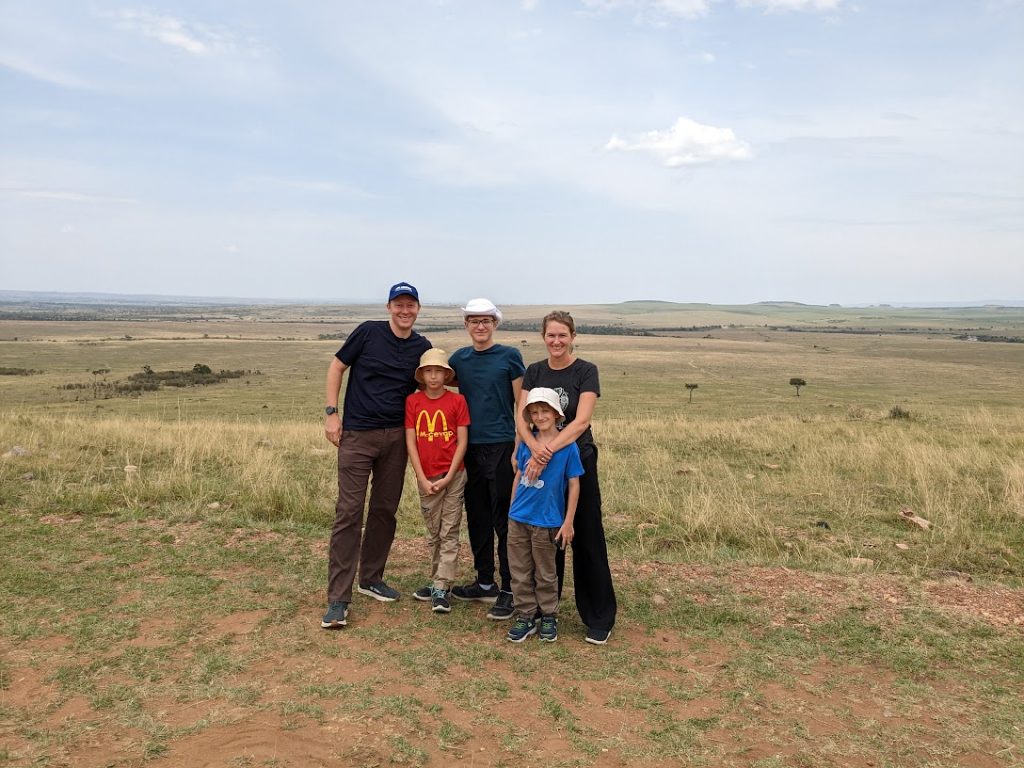 Crescent Island/Lake Naivasha and Lake Nakuru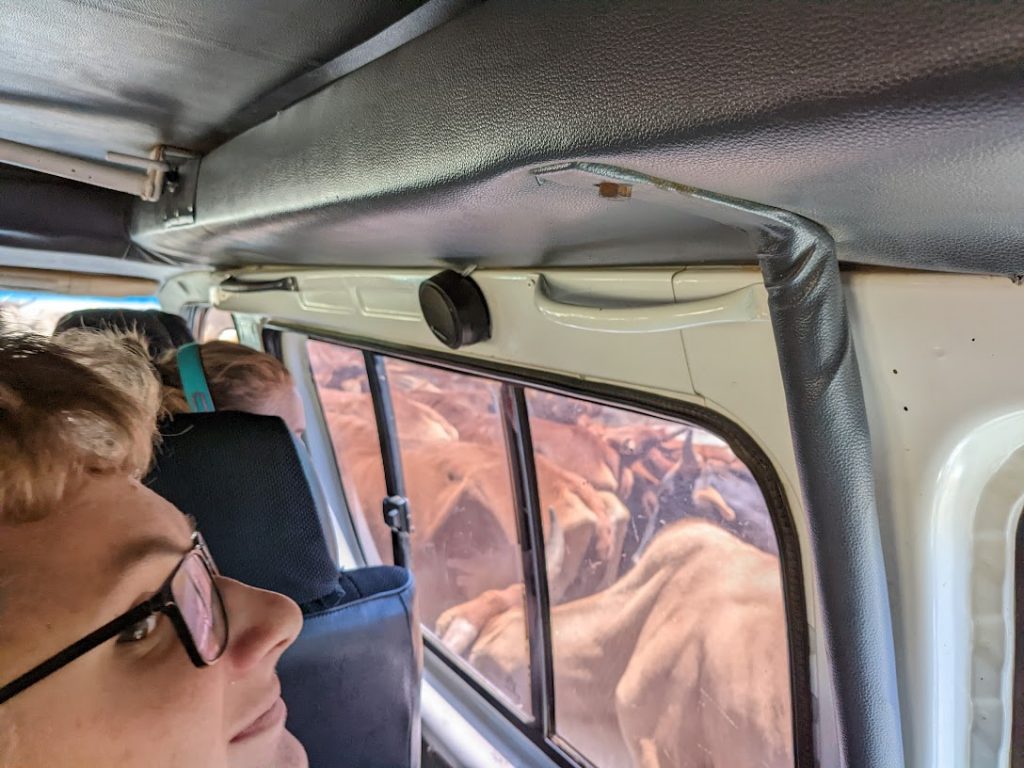 We left the next morning (across the same bumpy roads) for a day that was mostly driving north so we could visit Lake Nakuru National Park the following day. However, we had a lovely couple of hours in the afternoon visiting Lake Naivasha, where we spotted some hippos and birds before stopping at Crescent Island, a private, walking only, little reserve where the boat dropped us then picked us up at the other end of the "crescent".
We were having a pleasant walk at the island, ambling along and not seeing too much when a guard came hustling over the hill towards us. I was worried we were doing something wrong until he said, "do you want to see giraffes?!"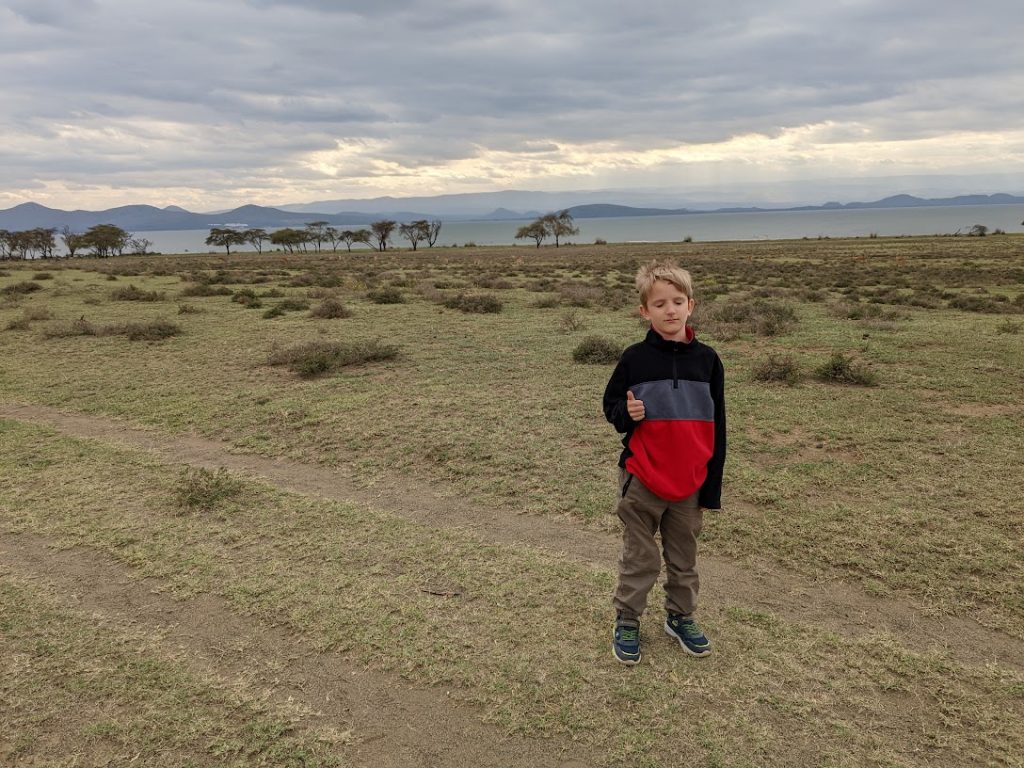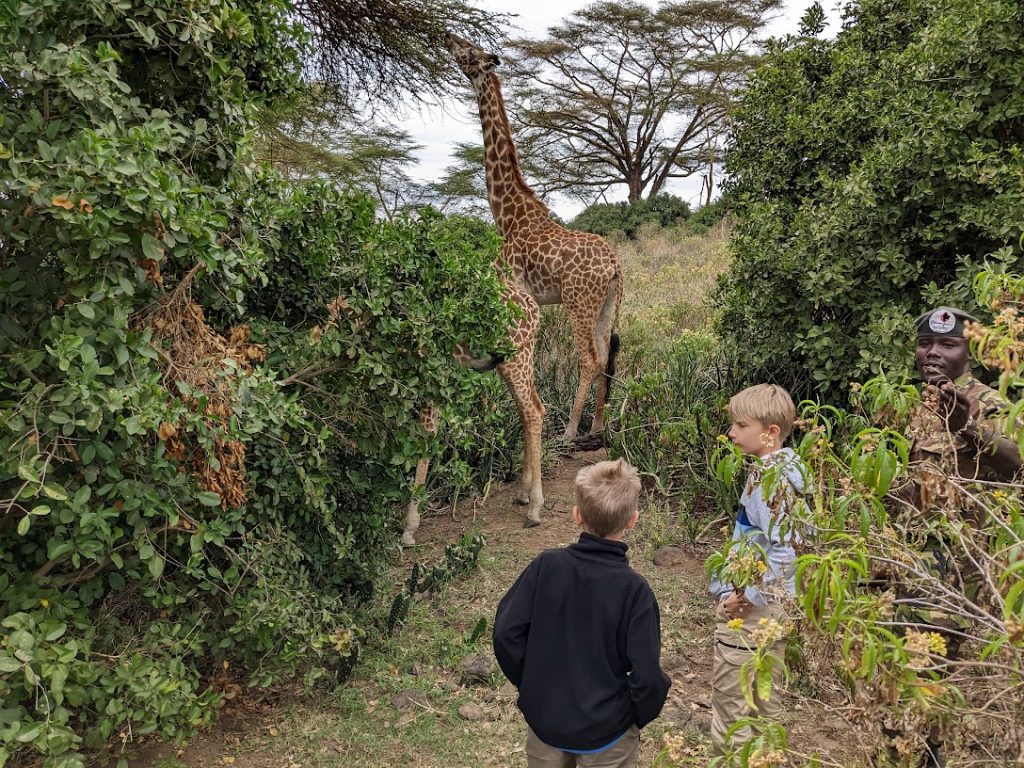 After the lake, we traveled a bit further to the Lanet Matfam Resort, which served our favorite food of the trip. It was well seasoned, but also was quite obviously fresh. Here's a turkey that was wandering around the parking lot: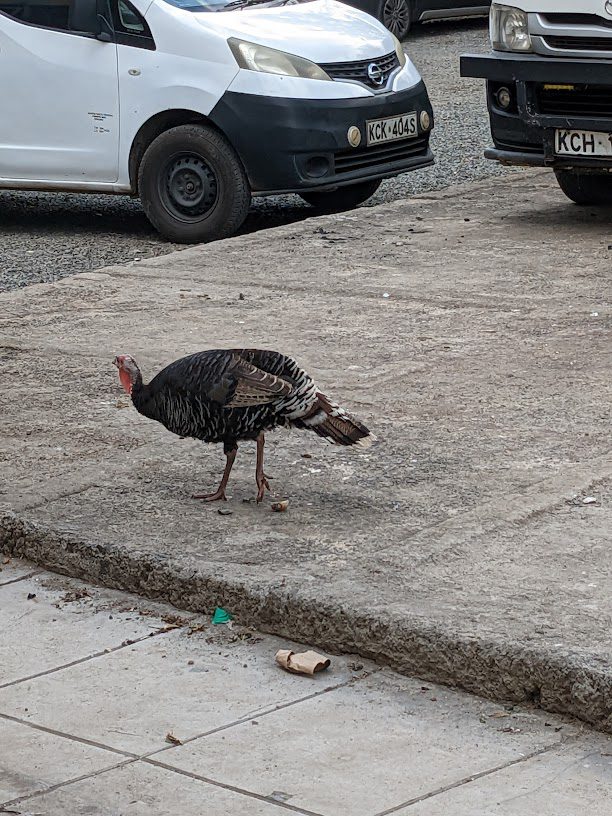 One thing we liked about the Lanet Matfam as well as the Sweet Lake Resort, where we stayed the next night, was that they weren't secluded resorts with only western tourists. In fact most of the other guests were Kenyans. I felt underdressed at Sweet Lake because there was some kind of business conference there that all the other guests seemed to be attending. I said at the top of the post that the tourist infrastructure wasn't as developed as we were used to, but in Kenya at least, we learned that isn't exactly true.
The day after the drive from Maasai Mara and visiting Crescent Island, we spent 5-6 hours at Lake Nakura park, which was notable for the large numbers of rhinos and the namesake lake stocked full of flamingos and other birds. You can see pictures in the second half of this Instagram post (which also includes Lake Naivashu and Crescent Island):
Hell's Gate and Amboseli
The following morning, we spent a couple hours riding bikes in Hell's Gate National Park before a 6-7 hour drive to the South of Kenya for Amboseli National Park, in the shadow of Mt Kilimanjaro. This last day was the most expensive part of the trip, both because of the added park fees ($225) and our most expensive lodge, but we were excited to see one of the most famous mountains in the world, even though we were skipping Tanzania where it was actually located.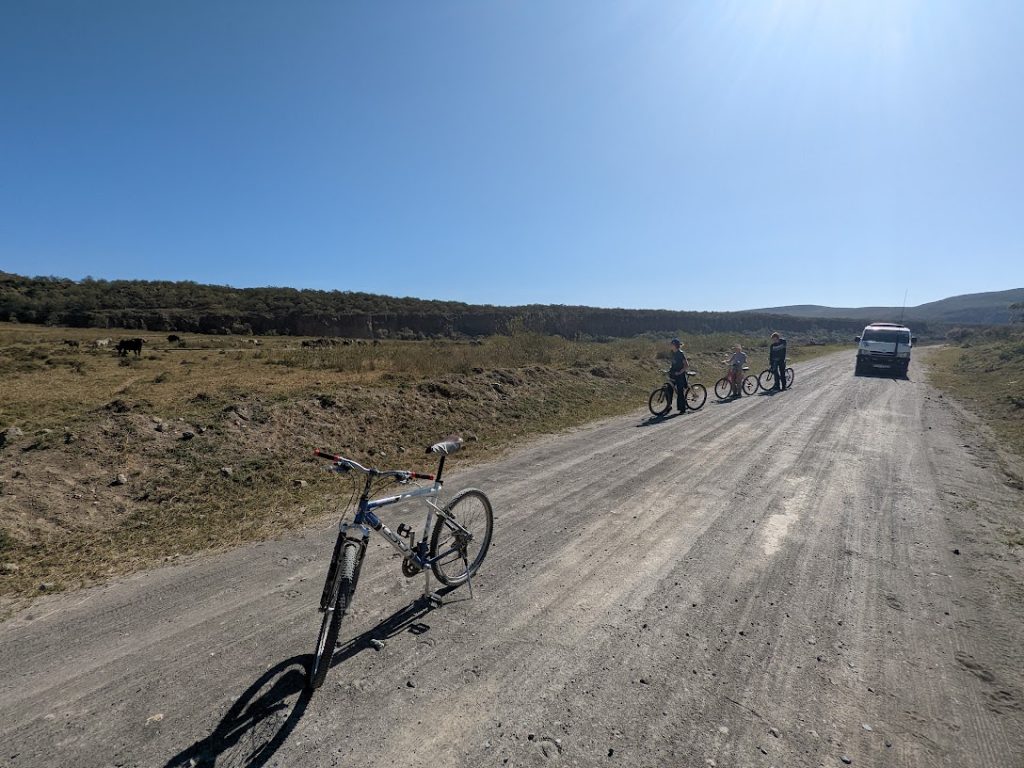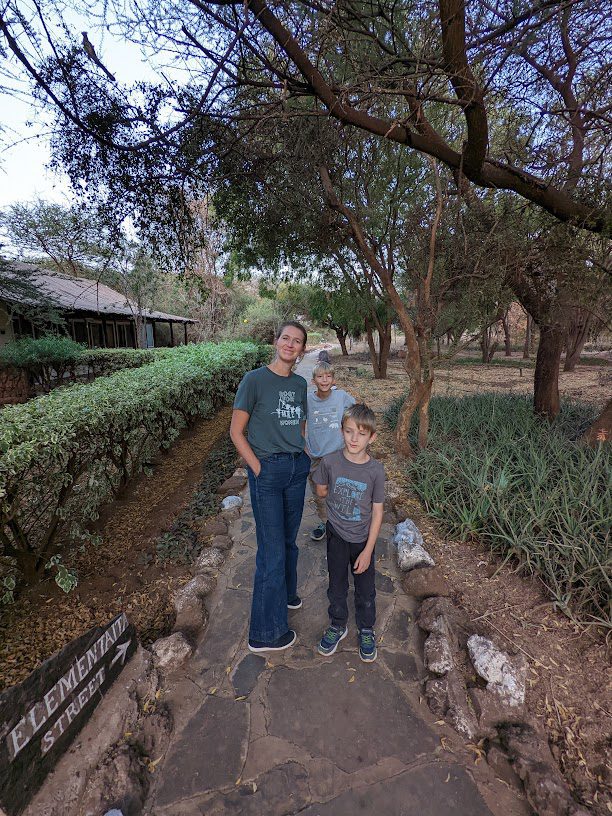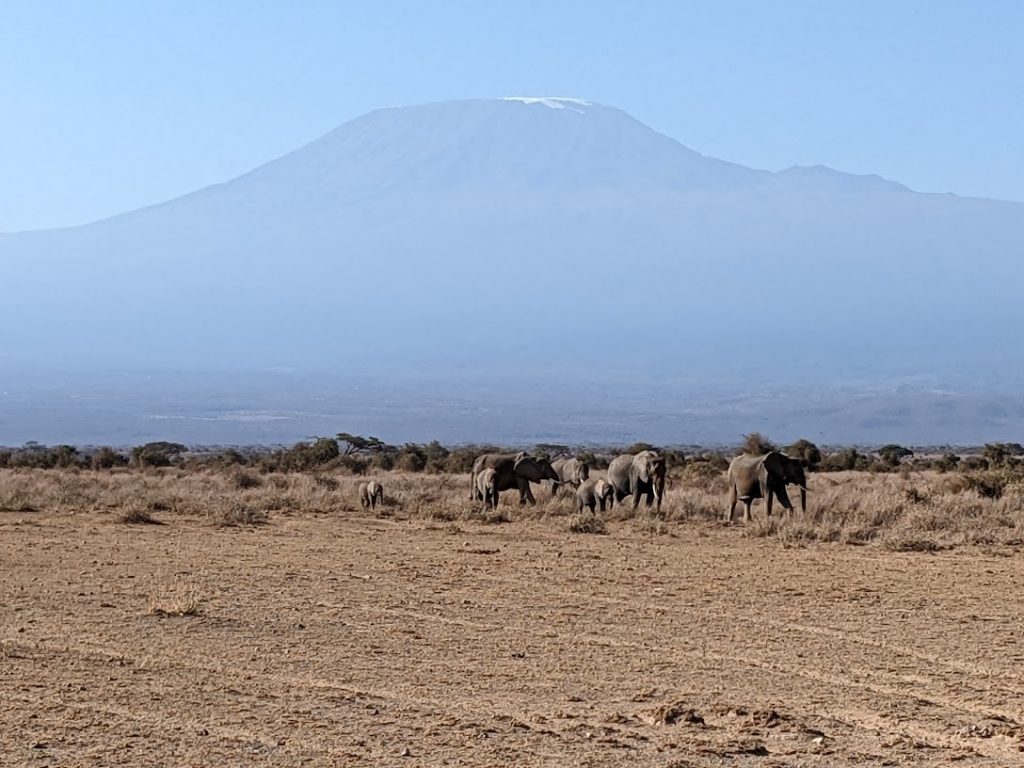 And that concludes our safari trip. After the whole morning at Amboseli National Park, James shuttled us back to Nairobi where we had another couple of nights relaxing at our Airbnb farmhouse before flying onwards to Uganda. On the day in-between, Karen, James, and I made a return trip to the Giraffe Centre for a little more giraffe feeding and also visited the excellent Karen Blixen Museum. We had a wonderful time in Kenya, and with the excellent introduction to the region were feeling confident about being a little more independent in Uganda and Rwanda.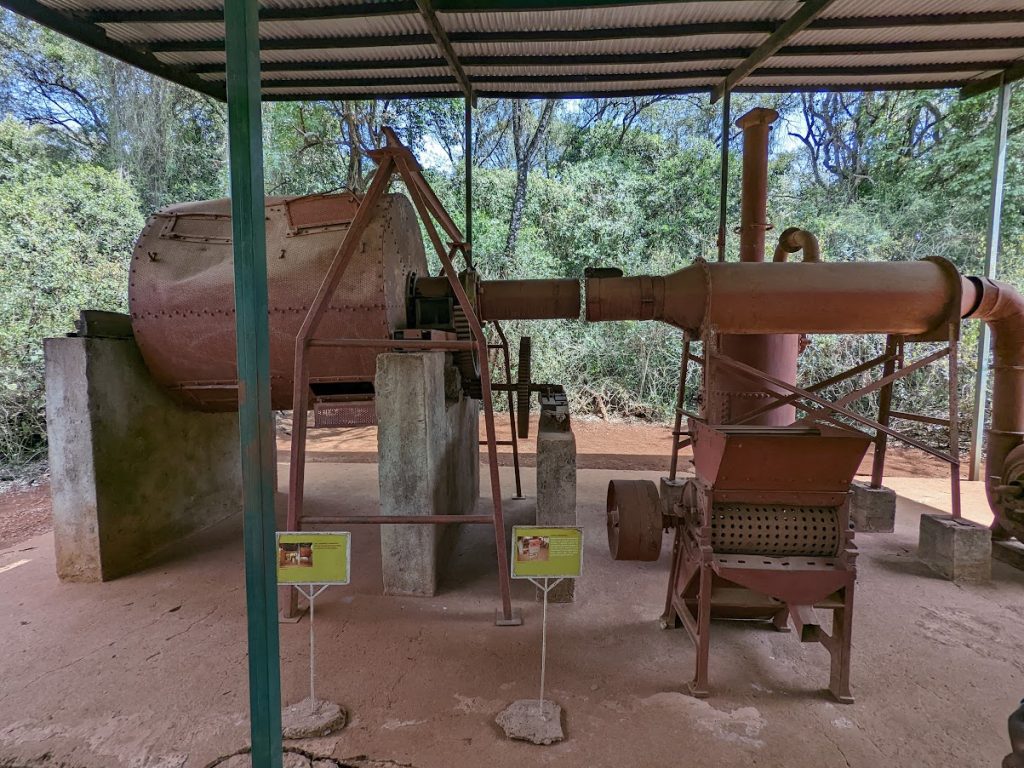 Stay tuned for a next post about Uganda and Rwanda, which will hopefully come a lot faster than this one!
Country counter after Kenya:
24th country of our trip
Me: 63 countries (including 37 eating McDonald's)
Karen: 63 countries
Henry: 37 countries
Charlie: 33 countries
James: 30 countries (he's kind of a fancy 8-year-old, averaging greater than 3 per year!)